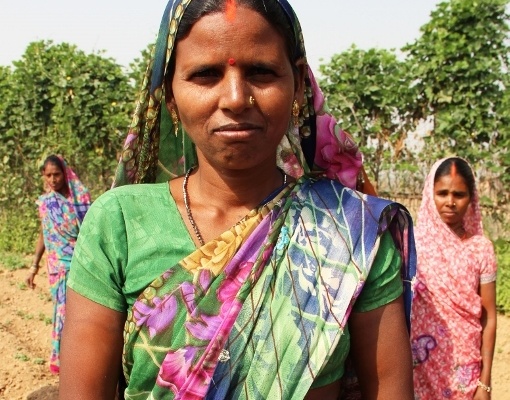 On the 16th October every year, World Food Day helps puts poverty and hunger in the spotlight.
Hunger is a bigger killer than AIDS, malaria and tuberculosis combined and to date there are 824 million undernourished people in the world. Shockingly this means that almost one in eight people will go to bed hungry tonight.
The majority of these individuals, like the families we work with, live in very remote rural areas of Asia and Africa, where they face a range of challenges, from the lack of resources to buy seeds, fertilizers and tools, to rising food prices and adverse weather conditions.
As a result these families aren't able to grow enough to eat and when they run out of food often cannot afford to buy more. 
Changing the lives of families who suffer from hunger, families like Pramila's
In the village of Navtolia in Northern India, we met an inspirational lady called Pramila Pannulal (pictured above) who was struggling to grow enough to feed her family and keep them healthy.  She explained some of the issues her community faced:
"Our families were fishermen previously but the government took our land and has since built a dam. We had to relocate and learn about agriculture. Even with water though, the land was infertile."
As part of a Find your Feet project, Pramila received training in soil and water conservation which greatly increased the fertility of her land and meant that less water was required to grow vegetables. She can now grow a greater variety of fresh produce for her family and improve their health and nutrition. As Pramila put it;
"In such a short space of time and with little knowledge, we are already able to produce so much. If we are able to gain more knowledge we will be even more productive".
Often, as is the case with Pramila, the work we do focuses on helping families grow more food, using simple but effective agricultural techniques that build on their existing skills and knowledge. Once they can tackle the hunger they face, they can begin to build a better future for their children.
"I am illiterate but I want my children to receive a better education and gain secure employment. With support from the project anything is possible."
What can you do?
With your help we can do even more to change the lives of vulnerable rural families like Pramila's so why not get involved and host a curry evening for Find your Feet.
Sign up for your free event pack and Natco spices today and know that every penny raised will make a huge difference to families suffering from hunger.