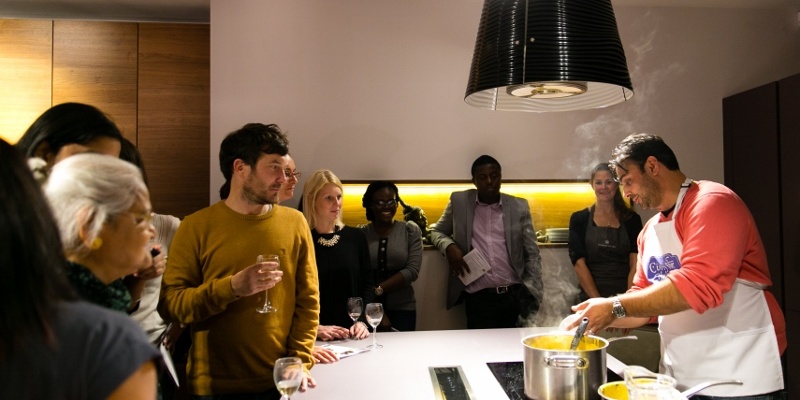 On Tuesday 14th October we hosted 'An Evening of Flavour' to celebrate Curry for Change and support families who suffer from hunger.
We were absolutely thrilled to see so many friendly faces both old and new at the event, with over 100 guests we were able to celebrate good food and drink, and importantly to share stories of how, together, we are changing lives.  
We were honoured to be joined by our ambassador chefs Anjum Anand, Dhruv Baker and Hari Ghotra who ran special masterclasses for our guests, with Halcyon Interiors providing the perfect venue for our foodie feast. The recipes they shared are now up on our recipes page too for you to try at home! Pictured, Dhruv Baker shows our guests how to make his tasty Malabar Prawn Curry.
Guests were also treated to delicious food from Dhruv's Earlsfield Kitchen, Indian inspired cocktails and drinks from Twist London, Soul Tree Wine and Kingfisher Beer, and everyone also went home with a special goody bag thanks to Natco, Devnaa, Duke of Delhi and Pukka teas.
It was particularly special to have Savitri Sharma and Chakalipa Kanyenda there, our colleagues from India and Africa, who were able to share more about our cause.
Thanks to the generosity of our guests we raised a fantastic £12,330!
This exceeded all of our expectations, and we are so grateful for the kindness of our supporters and event partners who helped make it all possible. A special thanks to the people and businesses who generously donated prizes for our luxury silent auction.   
Importantly, the amount raised will also be matched by our campaign partner, Natco Foods, so we can make double the difference and lift more families out of poverty in Asia and Africa.
This means we could provide training in sustainable agriculture, for a year, to 4,932 women in India, so they can learn how to look after their land, vary their crops and grow enough food so their families don't have to go hungry.
Photo credit: Sanjay D Gohil.
Thank you to all those who joined us and helped to change lives.