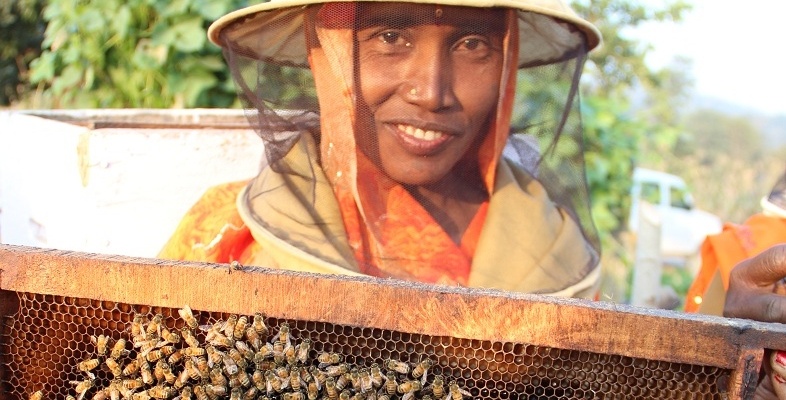 On World Food Day 2015 there are still 795 million hungry people in the world.
Curry for Change empowers women in rural India to find new ways of overcoming hunger, so that they are able to provide nutritious food for their families all year round.
In the North-East of India, close to the border of Nepal, lies the remote, rural village of Patwadh Kautuk. The village is extremely isolated and there are no job opportunities at all for local people.
Many of the men from the village are forced to move away to find work, and are often gone for months at a time. Wives and daughters are left to provide food for their families alone with no means of income. For the whole community, hunger is a very real threat.
Thanks to the kind donations of our Curry for Change hosts, the women of Patwadh Kautuk no longer have to face these struggles alone.
With training and support from Find Your Feet they have come together to form a local support network, through which they can combine their skills and knowledge in order to grow more food as a community.
Having learnt new, sustainable farming techniques from Find Your Feet, the community now grows a healthy yearly crop of corn, potatoes, green peas, garlic, radishes, chillies and much more.
On top of this, the women have started to branch out and come up with new, innovative ways of producing food. Using the limited resources at their disposal, the women of Patwadh Kautuk decided to start keeping bees and regularly harvest the honey. The bees act not only as a source of food, but as a source of income, as the women are able to sell the honey at market. This enables them to buy other essentials for their families such as medicine and school books.
Sukuwari (pictured) is president of the network and is very happy to have seen change in her community.
"Find Your Feet has provided us with seeds, and helped us to understand organic agriculture which has benefited us greatly. I grow cabbages, mustard seed, and snake and bottle gourd. I am also able to buy potatoes and aubergine from the market."
Just £50 can provide training in sustainable agriculture, for a year, to 10 women like Sukuwari in India. 
Many of the other villages we work with are still in vital need of support, so that they too can grow enough food to feed their families. By hosting a Curry for Change you can make a life changing difference to women who currently face hunger and poverty on a daily basis.
If you host before the end of the year, the money you raise will be doubled by Natco Foods, so you will have made double the difference.
SIGN UP TO CHANGE LIVES THIS WORLD FOOD DAY