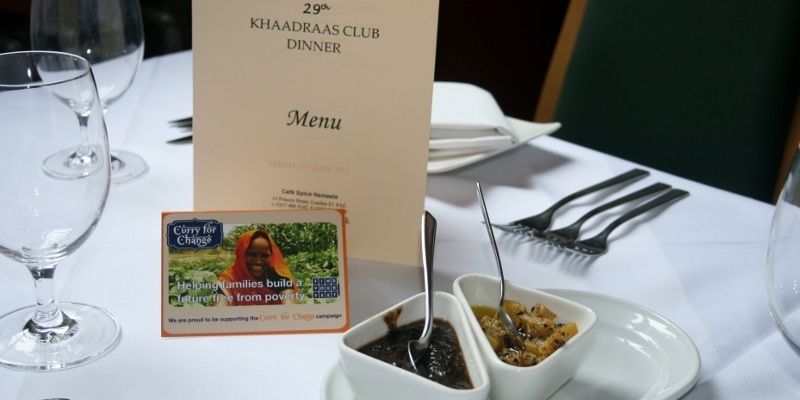 Across London our partner restaurants helped to change lives this summer
With the support of our ambassador chefs such as Atul Kochhar, Vivek Singh and Cyrus Todiwala, this June we partnered with 10 restaurants leading the way in Indian cuisine. They created special dishes and offered their guests the chance to donate – all in aid of the families we work with.
Those who dined out at Benares, Cinnamon Culture, Chakra or Carom in June will have helped to make a difference, and those that chose our special dishes or menu from Café Spice, Cinnamon Club, Cinnamon Kitchen, Cinnamon Soho, Roti Chai and The Regency Club, also helped to change lives!
So a huge thank you to all our restaurant partners and to those who dined out. With our campaign partner Natco Foods matching every penny raised, we have made double the difference to the lives of families who suffer from hunger.
Here's a roundup of the Curry for Change action this summer…
But it doesn't stop there!
We are delighted that Chakra in Notting Hill will be supporting Curry for Change until the end of October. So please go and join them, and help us change lives.
If you have a favourite local restaurant or would like to find out more about how your restaurant can get involved with Curry for Change please contact Jessica on [email protected] Everyone can do their bit to cook up change!
Take a look at our Visit a Restaurant page to find out more about the restaurants which took part and read the reviews.
And it's not too late to take part in Curry for Change. Host a curry evening this autumn and you can help change lives too.
Sign up and host a curry evening!