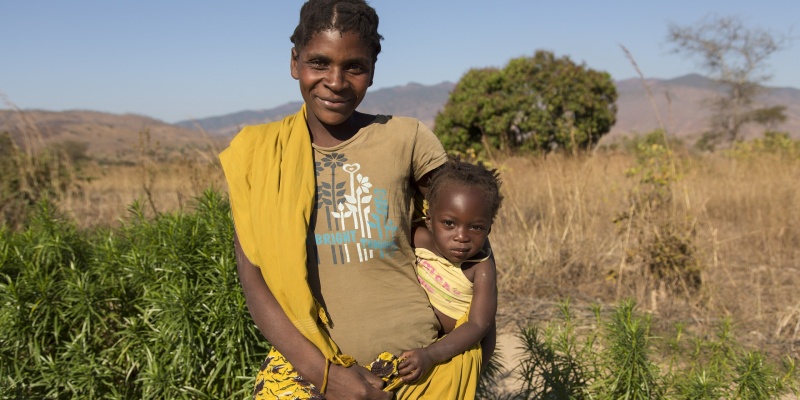 One in nine people around the world will go to bed hungry tonight. And for babies, young children and pregnant mothers, the effects of this can be life changing, and irreversible.
The first 1000 days of life – from conception to a child's second birthday – are vital.
If a baby doesn't get the nutrients she needs in the first 1000 days of life, she's likely to suffer from chronic malnutrition, or 'stunting'.
She'll be much shorter than the other children her age, her immune system will be weaker, and her brain won't develop in the way it should.
As a result, she will struggle more at school, she will be less able to build the skills that she needs, and be less able to support herself as an adult. Her health and her future will be consistently uncertain.  
The key to preventing all of this is to make sure she has a full and balanced diet throughout the very early stages of her life. 
We work in Malawi, where 1.4 million (or almost half) of all children are stunted, and where rural communities in particular suffer from extreme levels of hunger and poverty.
We work in some of the most rural and most isolated areas of the country, and support the parents and families of children most severely at risk of stunting.
We support farmers to try new seeds, and to diversify their crops in order to improve their yields. We help them to make compost so they can grow more vegetables and improve their diet. We help them to adjust their farming methods so that they're prepared to fight against the effects of climate change. We support them to put sustainable farming into practise.
We then help local people to acquire the tools and resources they need to share their knowledge with their neighbours, so that the entire community can work together to stop hunger, and to ensure the next generation of children can lead full and healthy lives.
Help us to make a difference to families and communities suffering from hunger this World Food Day, by hosting and donating to Curry for Change. 
Sign up now or get some ideas for your curry night.