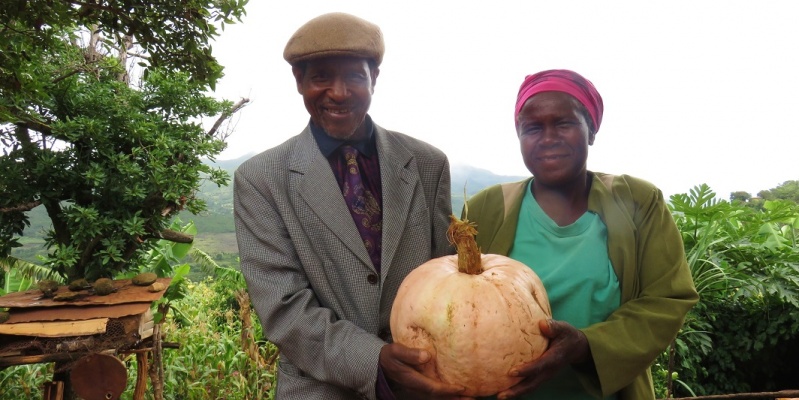 Pictured: Mr and Mrs Kanyanga - farmers who are growing more food in Zimbabwe.
Today is Giving Tuesday - a day to do good stuff for charity. 
You have the chance to do something good and have DOUBLE the impact.
How? By donating to Curry for Change. 
Because everything you donate to Curry for Change will be matched by our campaign sponsor Natco Foods - so every £1 will become £2 to help families suffering from hunger. 
In Zimbabwe, where more than a quarter of all children are stunted due to chronic malnutrition...
£5 could...  provide training in hygiene and nutrition for one farmer in Zimbabwe.   

£55 could... provide training for one 'Lead Farmer' who will help his/her community to use effective, low-cost farming methods.

£193 could… pay for a hygienic and durable solar drier for a family in Zimbabwe, so they can keep fruit and vegetables for much longer, and have enough food throughout the drier 'hungry months'.

Mrs Nadenga's Story
Mrs Nadenga is from a very remote village in Mutoko, Zimbabwe, where resources are scarce and families struggle to grow enough food. 
But with support from Curry for Change Mrs Nadenga and her community are changing this. 
Curry for Change provided a group of farmers in her village training in sustainable farming methods, and basic business skills. The group now meets regularly to share skills, knowledge and resources to improve their crops, and to create products to sell at market. 
They sell products like hibiscus tea, tomatoes and peanut butter. They sell as a group and put the profits into a savings pot. They've been able to buy a goat for each member of the group, and a 3 cattle between them. 
Thanks to their new livestock and income, they are able to provide enough food for their families. 
We want to reach even more families like Mrs Nadenga's this Christmas. Please donate now to help change the lives of families who suffer from hunger.