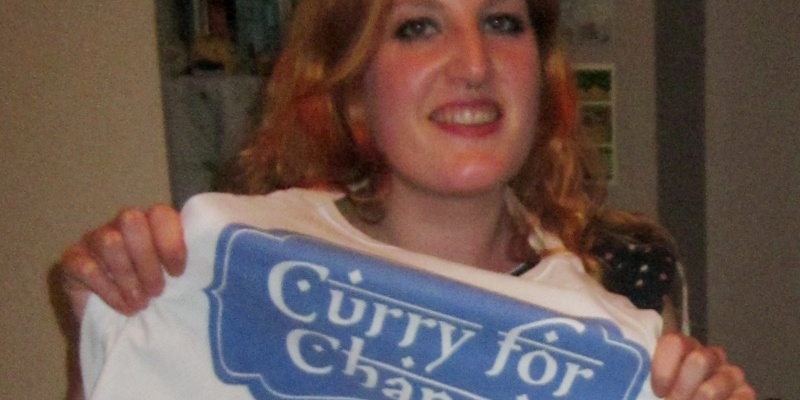 Curry fans across the UK are eating curry and changing lives!
It's fantastic to hear about all the curry events that have been happening so far, from dinner parties with friends, to events at local sports clubs - those who have signed up, have put their free event pack and spices to good use by cooking a curry for friends and family and then asking their guests to donate what they would usually spend on the takeaway.
This all adds up, and with every penny being matched by Natco it means their efforts have made double the difference to peoples' lives. So if you haven't hosted yet, now really is the time to hold whatever event you can, because even small amounts will make a big difference.
Here at Find Your Feet we have been having a go too! Our newest member of staff, Hannah, held a curry evening with friends, and here's how she got along.
Hannah's hosting hints  
I was pretty excited to start my new role at Find Your Feet in July, even before I found out about Curry for Change. Our projects support some of the poorest and most remote families in Asia and Africa to grow enough food so they don't go hungry, and I really think their work is really inspiring.
But as a keen cook I couldn't wait to get involved with our fundraising event, Curry for Change. An excuse to have friends round and stuff ourselves with curry sounds pretty good to me. However, I have to admit Indian food isn't something I cook that often and I did worry a little about my ability to pull off a successful evening. 
Still my boyfriend and I managed to rustle up at least a mid-level feast last weekend for seven lucky friends!
On the menu
We tried and tested a few favourites, a simple red lentil dhal and some cucumber and mint raita for our poppadom and dips starter. But also tried some new recipes too, including a chicken biriyani and some mango and sultana naans. The stand out recipes, though, ended up being from Hari Ghotra's website, who is one of our Curry for Change Ambassadors. 
We made Hari's naan breads (the best we've had!), saag paneer (cheese in curry, what's not to love?) and fresh mint chutney (we ended up making it a bit blow your head off spicy, but it was great with the raita). We found these recipes really easy and tasty and it made me wonder what she'd been so apprehensive about!
Our evening raised nearly £100, which will be doubled by our partner Natco to help twice as many people!
So what did I learn from my Curry for Change Evening?
Firstly, cooking a few nice curries is actually pretty simple and there's lots of great resources to help you pick a winning menu (including the recipe section on our website naturally, anyone for chocolate and Bombay mix cheesecake?)
Secondly, all my photos from the evening are terrible and that is definitely the fault of my camera and nothing to do with me or gin.
Thirdly, if I can do it anyone can!
So go on, what are you waiting for?
Sign up to get your event pack and free Natco spices today, set the date for your Curry for Change evening with your friends and help change lives.
To see Curry for Change in action, visit our Facebook album.
Remember, if you host and donate by 31st October - you will be in for the chance to WIN a master class with Michelin starred chef Atul Kochhar!