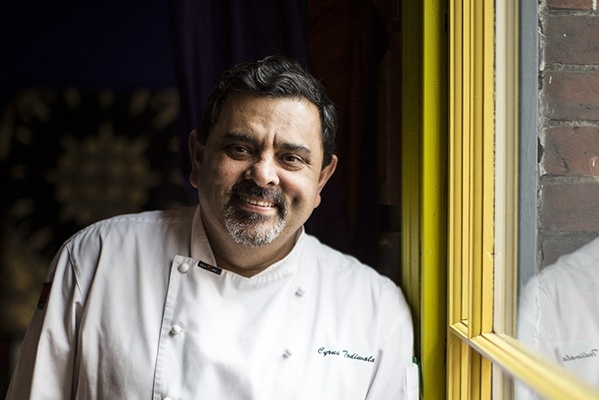 Cyrus Todiwala OBE is one of Britain's most successful and widely admired Indian chefs known for his refined, elegantly spiced and sophisticated cooking. His chain of unique and authentic gourmet restaurants including Cafe Spice Namaste, the landmark Pan-Indian restaurant, and the new restaurant Assado which he runs with his wife Pervin.
Cyrus explains why he's a long standing Curry for Change supporter, and gives us an insight into his love of Indian food.
What are your go-to recipes for a curry night with friends or family?
Cooking at home can be tough for us chefs, as the expectation from friends and family is quite high!  In my home, food varies across the spectrum from just spiced to making a great curry.  But it can be anything; for instance, last Sunday I cooked a spiced roast duck with masala roasted potatoes served with a chillified Caesars Salad, Pervin cooked Prawn curry.  Rice, daal or curry is a must.  
 If you could pick one chef to cook a curry for you, who would it be, and why?
For me, it would be the great Satish Arora.  Looking at a UK based chef, then why not Tom Kerridge; he is working hard to become a master of spice.
What made you want to get involved with Curry for Change?
It's a great cause, empowering women to stand on their own feet and to support their families in a way which helps eliminate hunger, mistreatment and social exclusion. 
Is there a particular story experience that has touch you by working on this project?
I find the way the Curry for Change campaign is all about helping people lead a more positive life really powerful.  Find Your Feet, the charity behind the Curry for Change campaign, supports people in the right way, through education and training so they can help themselves. It's life changing for a family if they have the opportunity to learn how to provide food for their children and thrive in a challenging environment and social situation.
Read the rest of Cyrus's interview on Cooked.com