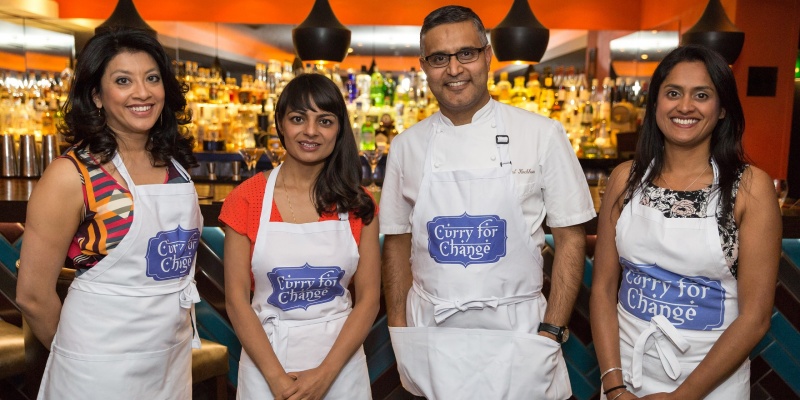 Curry for Change celebrated its official launch at twice Michelin starred restaurant Benares on Tuesday 23rd June.  
The launch saw our ambassadors, key media, influences and campaign partners unite to mark the start of the campaign which this year is aiming to raise over £50,000 to help rural families in Africa and Asia, including the recently struck country of Nepal, to fight hunger and poverty.
Tragically one in eight people around the world will go to bed hungry tonight.
At Find Your Feet we created the Curry for Change campaign as an easy and fun way for you to help make a real difference to the families we work with who suffer from hunger.
Now in its fourth year, we are hugely thankful for the support from our celebrity ambassadors including twice Michelin Starred Chef Atul Kochhar, TV Chef and Restauranteur, Cyrus Todiwala OBE, TV Chef and Cookery Writer Anjum Anand, and Founding Chef of The Cinnamon Club Vivek Singh, who are helping to raise awareness and valuable funds for the cause this year.
The campaign runs from June to October 2015
During this time we are encouraging people across the country, from curry enthusiasts' to first time try-ers, to host an Indian-inspired dinner party using a free Curry for Change event pack.  Simply SIGN UP and you'll receive all the essentials to invite friends, family or co-workers for a spicy night in.  The kit includes exclusive recipes from our ambassadors, top cooking tips and a packet of Natco spices. 
After guests have enjoyed their evening of fantastic food and great company they are invited to donate what they'd usually spend on a take-away and every penny raised will be matched by Natco, meaning your efforts and support will make double the difference! 
In addition, we have a number of partner restaurants across London, such the renowned Cinnamon Club and Benares, who have also created special dishes in honour of Curry for Change or offering their guests the chance to make a donation with their bill.
Jessica Ridgewell, spokesperson for Find Your Feet, commented:
"We are thrilled to launch Curry for Change for another year and get people up and down the country enjoying curry for a great cause.  Every penny raised enables us to help more vulnerable families change their situation for the better. For example, just £12 can provide a farming demonstration to a village in India so families can learn how to conserve water and grow more crops. This year we hope to raise more than ever and that's where the great British public come in - simply sign up and enjoy an Indian feast with friends and family!"
Our Patron Atul Kochhar was joined at our launch by fellow ambassadors Mallika Basu, Columnist and Food Writer, Hari Ghotra, Indian Cook and Teacher, and Meera Sodha, Food Writer.
Talking about the campaign, Patron Atul Kochhar said:
"I grew up in India and have seen poverty closely and know the difference a campaign like Curry for Change can make.  I'm addicted to this charity; it's doing amazing work.  What is different is that they don't just simply give money; they invest in the community so people learn the skills they need for a life without hunger. I've seen first-hand their passion and commitment to their work and the impact they have on the lives of poor people.  Raising £50,000 would be excellent – but I say let's aim high and raise as much as we possibly can!"
Mallika Basu, The Evening Standard's Indian Food Writer and Cookbook Author, shared:
"Not that anyone needs a reason, but Find Your Feet's Curry for Change campaign is a fantastic way to enjoy Indian food and contribute to those suffering in Africa and Asia.  I would recommend everyone to throw a dinner party right now!"
Hari Ghotra, Expert Cook and Curry For Change ambassador, comments: 
"The great thing about Curry For Change is that it offers people suffering from poverty the tools and education they need to find their feet and build a better future for themselves and their communities.  As a cook and teacher, I'm all about encouraging people to get into the kitchen and try new recipes.  Curry For Change does exactly that but with the added bonus of raising money for a great cause.  I'm delighted to support the campaign again this year."
Meera Sodha, Food Writer, said:
"What's better than having a few friends around for a curry and helping end hunger at the same time?"
Visit the Gallery for pictures on the night
(Photo credit: Marcelo Paz, Jellyfish)
See the #curryforchange twitter action here:
To receive your free Curry for Change kit and Natco spices SIGN UP and take part today.