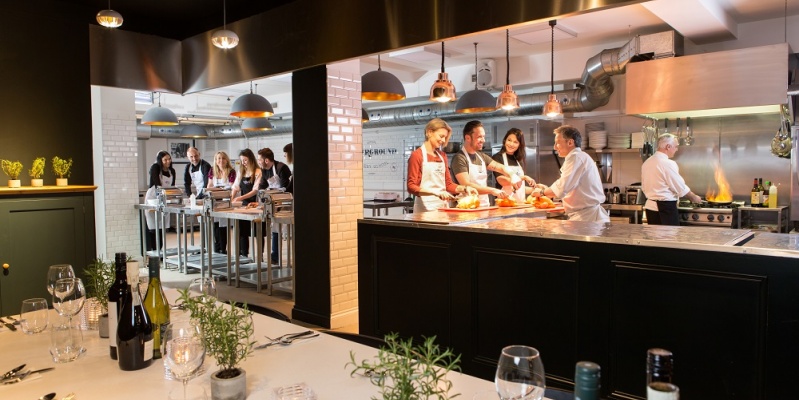 Our hugely popular cooking classes are back for 2018!
This year we are delighted to be featuring wonderful chefs from around the world teaching you the secrets of cooking authentically from Vietnam, Mauritius, Kenya, and classic Indian food representing many regions and cultures.
All classes will include expert introductions to the flavours and spices being used and how to recreate their delicious dishes at home for your friends and family.
Once the class is over, put your new culinary expertise into practise at your very own Curry for Change night. Host a dinner with a difference and help to change the lives of families who suffer from hunger.
Any enquiries please contact [email protected] or call 020 7840 3780.
The Events:
An Introduction to Vietnamese Street Food with Gina Lely
This will be a hands on class working in pairs to create your own Vietnamese street food essentials, including fresh salads, crispy pancakes, fresh summer rolls, and the delightful dipping sauces to accompany them. 
You'll learn to balance flavours and textures, chopping techniques, use an array of bright and vibrant herbs so loved in Vietnamese cooking, and learn about the cultural roots of Vietnamese street food. 
All dietary requirements can be catered for, as you will choose the ingredients to use in each dish, so this class is suitable for vegans, vegetarians, gluten free, dairy free, and meat loving diets.
 #FridayCurryClub with Hari Ghotra

We love Hari Ghotra's app, which is creating a community of home chefs, offers exclusive recipes and discounts, as well as Hari's amazing live online #FridayCurryClub cooking session. Download the app to take part in the special Curry for Change #FridayCurryClub on Friday 27th July!
Kenyan Home Cooking with Anita Kerai
Anita has a passion for cooking beautiufl vegetarian and vegan food, developed since her childhood in Kenya and from her family roots in India.​ In the UK, Anita presents on Simply Good Food TV and is a Food Revolution Ambassador. She works with schools to promote healthy eating, runs demos at food shows and holds cooking classes. 
This class will be an intimate introduction to cooking Kenyan food at home, taking place in Anita's very own kitchen!
For information and to book please visit the website: anitaskitchen.co.uk/spicy-saturdays
Masterclass with award-winning cookbook author Mridula Baljekar
Mridula's food is described in the media as 'Heaven on Earth for the senses', 'Route to spice heaven', and 'traditional Indian cuisine with a brilliant modern twist'. Mridula's food has attracted the attention of politicians and celebrities alike. 
Mridula is recognised as the best cook and writer in her field, we are absolutely delighted that she has offered to host this Masterclass for Curry for Change and hope you can join us for this special opportunity.
Tickets live soon.
Nostalgic Food from North India with Priya Deshingkar
Priya's cooking is rooted in authentic flavours from across the many regional dishes of India, recreating classic dishes from her childhood and bringing a taste of nostalgia to the modern cooking environment with traditional methods and ingredients. This class will be a wonderful exploration of North Indian cuisine. 
Tickets live soon.
Mauritian Delights with Brinda Bungaroo
Brinda has a true love for cooking, starting at a young age helping her parents at their family business in Mauritius. These memories influence Brinda to create her own recipes and teach classic Mauritian food, a light but warming style of North African cuisine you will love to learn and recreate for your friends and family.
Tickets live soon.
Diwali Festival Feast with Maunika Gowardhan
Maunika is a wonderful Indian chef and food writer raised in Mumbai and now based in the UK. Maunika's food influences stem from traditional home cooking, creating authentic and delicious Indian dishes full of flavour and spice. This Diwali you will treated to a true feast of authentic flavours including chaats, mains, and of course Kingfisher beer and wine to share whilst celebrating!
Tickets live soon.