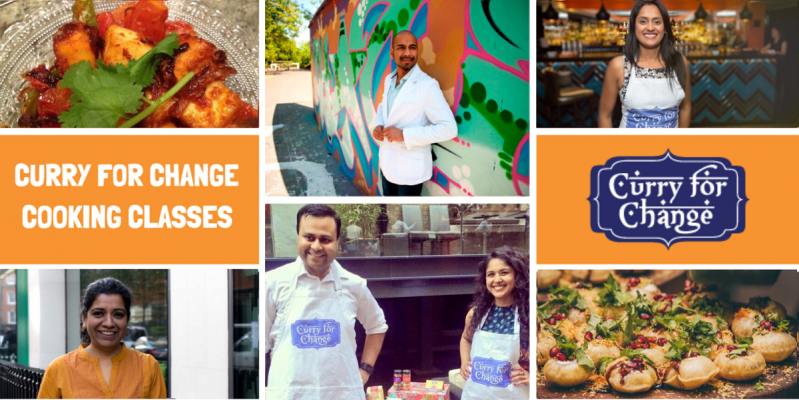 This year we're offering you the chance to get in the kitchen and cook alongside some incredible chefs at our very special Curry for Change cooking classes!
Come and experience real Indian cooking at our series of cooking classes at School of Wok in central London. Each class will have a unique theme from a different chef, so come along to pick up top tips and tricks, learn new skills, and enjoy some fabulous food.
Once the class is over, put your new culinary expertise into practise at your very own Curry for Change night. Host a dinner with a difference and help to change the lives of families who suffer from hunger.
Tickets are £35 for a 3 hour class. Kingfisher beer, Natco ingredients and goody bags will be provided!
Any enquiries please contact [email protected] or call 0207 326 4601.
The venue:
School of Wok, set up by the young and talented chef Jeremy Pang, is Europe's only award winning Asian & Oriental cookery school. Located in London's Covent Garden, it provides engaging and exciting hands-on cookery classes to the public.
The Events:
SOLD OUT: Celebrating Freedom with Asma Khan 
Celebrate freedom on Indian Independence Day with a unique culinary experience hosted by Asma Khan. Explore the flavours of regional vegetarian dishes from around India, and learn how to recreate them yourself at home.

Learn to rustle up your own Indian Street Eats with Chit Chaat Chai. Join Tania and Dhruv as they reveal the secrets to creating their popular street Chaats so you too can Chit Chaat with your friends!
Become a master of simple snacks and canapes to impress your guests at an Indian inspired drinks or dinner party. Pick up tips and tricks to prepare authentic Indian food, and gain insight into the aromas, flavours and uses of different spices.
Learn how to cook food from across the Indian subcontinent taking inspiration from the Mountains, Coast, Jungles, Desert and City.
Guests will learn how to cook hearty dishes from the snowy mountains to desert kingdoms, and the hustle and bustle of Delhi street food to coastal Keralan paradise and lush Nagaland jungles. It's an Indian food adventure!