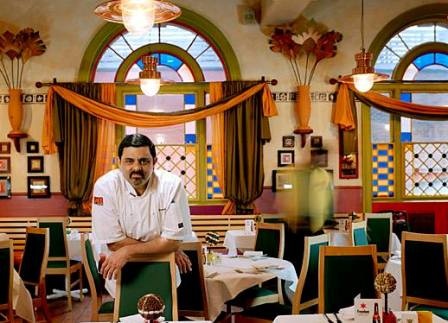 Join us and our ambassador chefs to dine out and change lives!
With the backing of heavyweight celebrity chefs, Curry for Change 2015 launched on Monday 1st June. We are aiming to raise thousands of pounds to help change the lives of rural families in Africa and Asia who suffer from hunger, including the recently struck country of Nepal.
Now in its fourth year, we have support from our chef ambassadors including twice Michelin Starred Chef Atul Kochhar, TV Chef and Restauranteur, Cyrus Todiwala OBE, TV Chef and Cookery Writer Anjum Anand, and Founding Chef of The Cinnamon Club Vivek Singh, who are helping to raise awareness and valuable funds to fight hunger this year.
Running from June to October, the campaign launches across London's top Indian restaurants in June.
Choose between a number of our partner restaurants across London, such the renowned Benares who will be offering you the chance to donate with your bill. Other restaurants including Cafe Spice Namaste and will be offering a special dishes in aid of Curry for Change.
So what are you waiting for?
Head to The Cinnamon Club for a Green spiced Norfolk free range chicken breast with tandoori chicken rillettes, Cinnamon Kitchen for their Dry spice crusted free range chicken breast with tomato and fenugreek sauce, and Cinnamon Soho to feast on their Roasted rump of Kentish lamb with corn sauce. Cafe Spice Namaste are putting on a special Parsee dish - Belly of Pork with Shrimp paste, and The Regency Club are also generously donating a £1 from each dish sold on their Specials menu, so plenty of choice for you to sample!
Hurry, you have until Tuesday 30th June to dine out in the capital and change lives!
Visit our Restaurants page for full information.
Throughout the campaign, from June to October, you also have the chance to get involved by cooking a curry at home. SIGN UP TODAY for your free event pack and Natco spices to help get you started. 
Stay tuned for more news, events and ways you can eat curry and change lives this year.