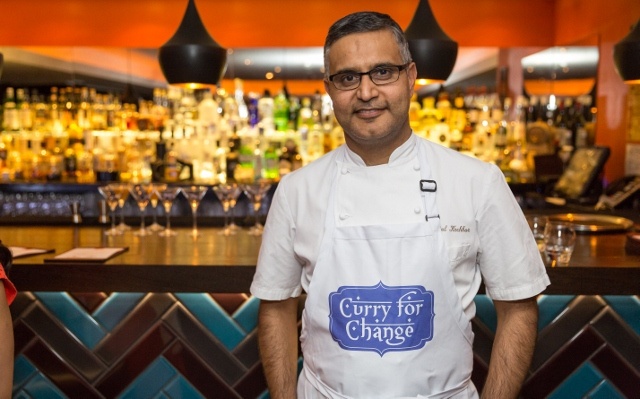 Our Curry for Change Ambassador, chef Atul Kochhar, talks cooking curry and charity.
Twice Michelin Starred Chef Atul Kochhar has been Patron of Find Your Feet since 2008 and ambassador of our Curry for Change campaign since it started in 2012. His restaurant Benares also takes part in the campaign, and Atul helped launch Curry for Change for 2015, and is now encouraging you to get involved at home.
Atul shared what he would do for a Curry for Change dinner, his top tips, and why he's involved.
What are your go-to recipes for a curry night with friends or family?
Always home style chicken curry – it's really simple and easy to do.  I combine cumin, ginger, garlic, bay leaves and cinnamon together with caramelised onions, coriander, garam masala and red chilli powder.  I then add chicken, some water or stock, add tomatoes and then cook slowly. I like to then garnish it with chopped coriander and green chillies – delicious!
If you could pick one chef to cook a curry for you, who would it be, and why?
David Thompson - he cooks Thai food, one of my favourite foods; there is nobody in this world who cooks Thai food like David Thompson.
What curry dish would you make for your dinner party?
The Meen Molee is a rich, indulgent dish which is always an impressive dinner party favourite. Rich with the coconut milk, but delicate with the lightness of seabass and the cautious use of spice and heat, this is one of those dishes which suits most palates and can be made for any occasion. The colours are gorgeous too, and so it looks as good as it tastes. 
What made you want to get involved with Curry for Change?
The Curry for Change campaign really resonated with my upbringing in India.  I faced struggles in my childhood and so to see Find Your Feet's campaign help people create a better life for themselves is really important to me.  For many people, all it takes is for a little step up and it can change your life completely. 
Is there a particular story experience that has touch you by working on this project?
It would have to be when I went over to India with Find Your Feet in 2007 and visited some of the people who have been directly helped by the money raised by the Curry for Change campaign.  I was so touched to meet confident people – who have nothing – gain something from working with the charity.  It was really special and makes me very proud to be Patron.
Atul Kochhar's top Curry for Change cooking tips
Keep spices in an air-tight container (preferably stainless steel), away from direct sunlight.
If stored properly, whole spices can last nine to 12 months, while powdered spices can last up to six months.
Buy spices in small quantities and use them as often as you can. That way you don't end up with a cupboard full of stale spices that won't deliver on flavour.
Pound whole spices first in a pestle and mortar to release their fragrant oils and flavour.
Frying spices in hot oil means you get as much flavour out of them as possible. Check the oil is hot enough by dropping a little spice in. If it sizzles, you can add the rest of the spices.
You only need to cook spices for about a minute - be careful not to burn them as they'll turn bitter. Slow down the cooking process by adding onions, or whatever the next stage in your recipe is.
Don't be afraid to use the quantity of spices a recipe specifies. Trust the recipe and go for it. You won't get an intense flavour with just a pinch of cumin, for example.
 Sign up to host your own curry evening and get more recipes from our chef ambassadors.