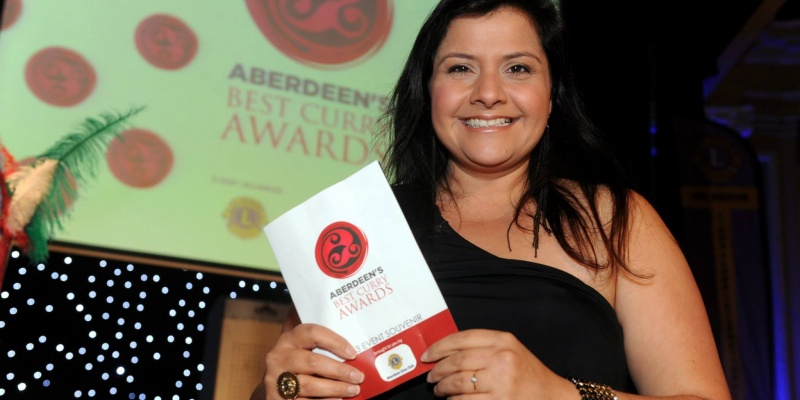 On Sunday, 13th October the first ever Aberdeen Best Curry Awards was hosted by the Aberdeen Lions Club. We were very honoured to be one their charity partners and to be a part of celebrating Aberdeen's vibrant curry culture.
Over 350 guests attended the event which was held in the iconic Beach Ballroom, and the Aberdeen community came together to reward the talent and hard work of those involved in the Indian restaurant business throughout the city.
Guests were treated to a delicious curry meal as well as beautiful performances of traditional Indian dancing from youth groups from the local area.
We were delighted that the special guest of the evening was Nina Wadia, TV actress, who attended as the ambassador for Find Your Feet and our Curry for Change campaign. Nina shared her passions for curry and the chance we have to help change lives.
Thanks to the generosity of guests, the Aberdeen Lions Club and a fantastic raffle, the event was a great success and raised £6,000 for the Curry for Change campaign, helping to make a life changing difference.
£6,000 could provide 2,400 women with the farming tools they need to improve their harvests and provide more food for themselves and their families, so their children no longer go hungry.
We would like to say a special thank you to Richard Simcox and Roemex Ltd, a guest at the event who generously contributed £3,000 towards the final total. We are also extremely grateful to Aberdeen Lions Club members and event organiser Sumon Hoque for supporting Find Your Feet and helping to raise awareness and vital funds for the families we work with.
Congratulations to all the finalists and winners and thank you for helping us change lives with curry!