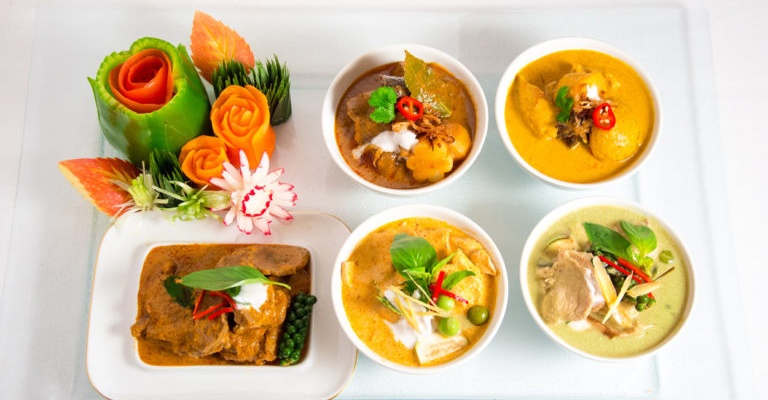 4th November
Confirm time and date with school on booking
The Krua Thai Cookery School, 19 Liberton Brae, Edinburgh, EH16 6AQ
The Krua Thai Cookery School in Edinburgh are hosting a one-off Thai Masterclass to raise vital funds for Curry for Change. 
Take advantage of this exceptional offer to discover the secrets of traditional Thai cookery and learn about Thai eating culture with professional chef Rujira Herd. 
Learn how to impress your guests, colleagues, family and friends with high quality Thai dishes and blending techniques from a professional Thai chef. Get exclusive access to trade secrets follow the cooking process through step by step. 
Students will be shown how to use various herbs to achieve the intensive flavour that Thais expect in high quality cooking but is difficult to find outside their country.
What's on the menu?
GIEW GROB
(Crispy wonton soup with minced pork with sweet tamarind chilli sauce dip)
………………………………………………………………….
TOM KA GAI
(Chicken galangal soup, lemongrass, lemon juice, and mushrooms, lime, coriander)
KAW PLOW
(Steamed rice)
…………………………………………..
Dessert
TANG THAI KA-TE
(Chilled melon with aromatic Pandan syrup, coconut milk – well finishing with spicy food)
Prices:
Option 1: Part demonstration, part hands-on. £99/pp. Minimum class size 5 people. 2.5 hours
Option 2: 100% hand-on class. £345 for 2 people to cook any 3 dishes from our list of over 100 dishes. 4.5 hours.
To Book:
Contact the school directly to book on 0131 664 3036 or at
[email protected]
. Please ask to take part in the 'Curry for Change cooking class'.