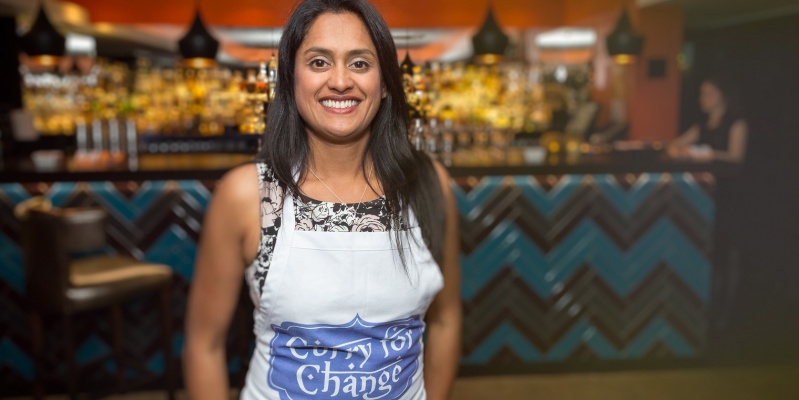 19th September
6.30 - 9.30pm
School of Wok, 61 Chandos Place, London, WC2N 4HG
£35 per person
This class has now sold out
Become a master of spices and simple snacks to impress your guests at an Indian inspired drinks or dinner party.
Pick up tips and tricks to prepare authentic Indian food, and gain insight into the aromas, flavours and uses of different spices.
This is your chance to gain a greater overall understand of authentic Indian cuisine with this one-off class in support of Curry for Change.
Who?
Hari Ghotra has always loved Indian food, cooking and creating spicy dishes. So she started running her own cookery classes, which grew and grew to the point where she started organising supper clubs and even pop-up restaurants.
She's mad about spices and in her search for inspiration, flew back and forth to India to breathe in the aromas and flavours and textures of authentic Indian food. She talked to friends and family about the meals they cooked, explored the local markets and visited the odd restaurant too. She brought home loads of new ingredients, interesting recipes and amazing herbs and spices to make even more delicious dishes for everyone.
She now works at The Tamarind Collection of Restaurants which includes Tamarind of Mayfair - the first Indian restaurant (ever) to be awarded a Michelin star! 
Where?
School of Wok, set up by the young and talented chef Jeremy Pang, is Europe's only award winning Asian & Oriental cookery school. Located in London's Covent Garden, it provides engaging and exciting hands-on cookery classes to the public.
What's included?
Three hours of food with Hari Ghotra. Explore the secrets and learn the techniques, then sit down with your fellow students to enjoy your simple snacks and creative canapes.
Wine and Kingfisher beer will be provided.
Each guest will get a goody bag of Indian treats to take away them.
New skills?
Tour the Indian spice tin and take part in a Spice Masterclass, where you have an open forum to talk about the spices and how to use them.
Allergies & Diet?
There will be both meat and vegetarian options.  
What's next?
After the class, use your new knowledge and culinary expertise to host a dinner party with a difference to help change the lives of families who suffer from hunger. Cook a curry for your friends and ask each guest to donate what they would have spent on a takeaway. Every penny you raise will be DOUBLED by our campaign partner Natco Foods.
Other details?
There are 12 places available so get your tickets quick!  For any other enquiries contact [email protected]