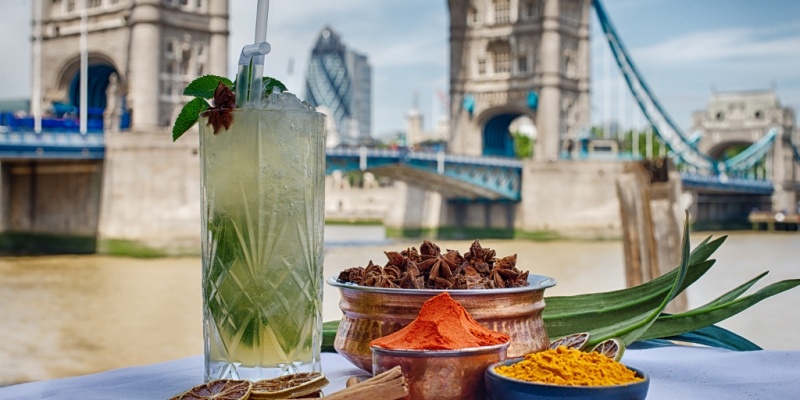 22nd September
7-9 pm
Butlers Wharf Chop House
Places are limited and priced at £65 per head for canapés and champagne followed by a five-course tasting banquet with cocktails on the riverside deck. TICKETS FOR THIS EVENT ARE NOW SOLD OUT
Join Carom Spice Garden and World of Zing for a Thames-side evening fundraising spice banquet overlooking iconic Tower Bridge, and step into a world of rare chillies on this unique culinary adventure. Chef Vishnu Natarajan and Pritesh Mody from leading spice retailer, World of Zing, will guide you through the five-course tasting menu as you sit back and savour exquisitely spiced dishes with accompanying cocktails.
Located at Carom Spice Garden at Butlers Wharf, itself a former-spice warehouse, discover the history behind our favourite chillies and spices. From the Facing Heaven and Naga Ghost to Guajillo and Pul Biber, the world of chillies is every bit as exciting as their exotic names suggest.
£5 from each ticket sold will go towards Curry for Change!
The Menu:
Papadums & Crackers with Fresh Red Chilli & Mango Chutney

Bhelpuri Rice Salad (v)
Tandoori 'Malai' Chicken with 'Scotch Bonnet'
Game-stuffed Chilli Pakora

Carom's Chilli Squid
With smoked 'Pul Biber' Crush and Chilli Coriander Dip

'Facing Heaven' Tandoori Poussin Breast,
Mint Yoghurt Sauce

Passion Fruit Sorbet

White crab & Lobster crispy Spheres
with'Naga Ghost' and Apple Slaw Salad

'Dum' Lamb Biryani with blend of fresh & dry chillies
Cucumber Pachadi Raitha
Hyderabadi style Mirchi Ka Salan (v), fresh Chilli Curry
Served with Thyme Naan

'Chilli' Chocolate Ice cream, 'Guajillo' and Berry Relish
Spiced Victorian Slice
-
Coffee
-
Menu priced at £65 pp and served with accompanying wine & cocktails